Russia have set a target of reaching the semifinals of the World Cup 2018 for new manager Stanislav Cherchesov.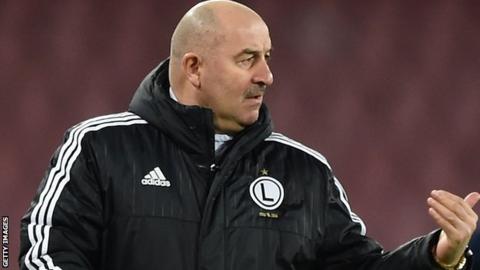 The 52-year-old was recently appointed by the Russian FA as the new coach of the national team. After having a lot of experience from approaching the likes of Spartak Moscow and Dynamo Moscow on numerous occasions,Cherchesov is one of the best chances Russia have to do well in the home World Cup. The home World Cup is thought to be one of the primary reasons behind the lofty ambitions of the national team.
Ever since the Euro 2008 semi-final appearance, Russia have been unable to meet their targets. They have gone through managerial options like Fabio Capello, widely regarded as one of the greatest managers in the modern era, without success. They have only managed to reach the group stages of the Euro 2012 and 2016. It was the same case at the FIFA World Cup 2014 in Brazil. However, unable to do well in these competitions will not have a profound impact on the nation as a whole as the upcoming World Cup 2018 performance. Since it is at home, there will be a lot of scrutiny on the team and the Russian FA as a whole.

"Hand on heart, I'm not worried. It's obvious the result wasn't the one we wanted and it needs to be sorted out. One person on his own can't do that; it has to be done by everyone. Though one person can mess it all up," said the manager when asked about the tough objectives set by the Russian FA.Cherchesov only recently experienced success with Polish outfitLegia Warsaw. The team managed to win the cup double and the league title last season. Doing well with the Russian FA will be an entirely different prospect.